FloodRISE Faculty Associate Ed Balsdon and Student Assistant Victoria Balentine attended the Urban Land Institute's Building the Resilient City Conference in San Francisco from September 3-5, 2014. The event attracted a diverse audience of non-profit organizations, government agencies, insurance companies, private firms, and academic institutions. This broad representation of attendees across sectors highlights one of the underlying themes of the conference: that resilience and adaptation to our changing environment requires action not only from government, but from many types of industries. Presenters offered case studies of climate response from around the world, showcasing regional collaboration and inter-agency partnerships as key components of a whole systems approach to climate adaptation. FloodRISE personnel also learned about local efforts and challenges in resilient coastal development, including a tour of the rapidly developing and extremely flood-vulnerable Mission Bay community.
More information and videos of the conference can be found here.
Map and highlights from conference tour of flood-vulnerable Mission Bay.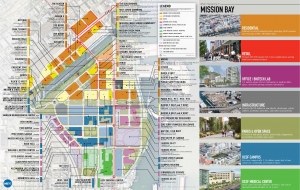 (Courtesy of the Mission Bay Development Group)