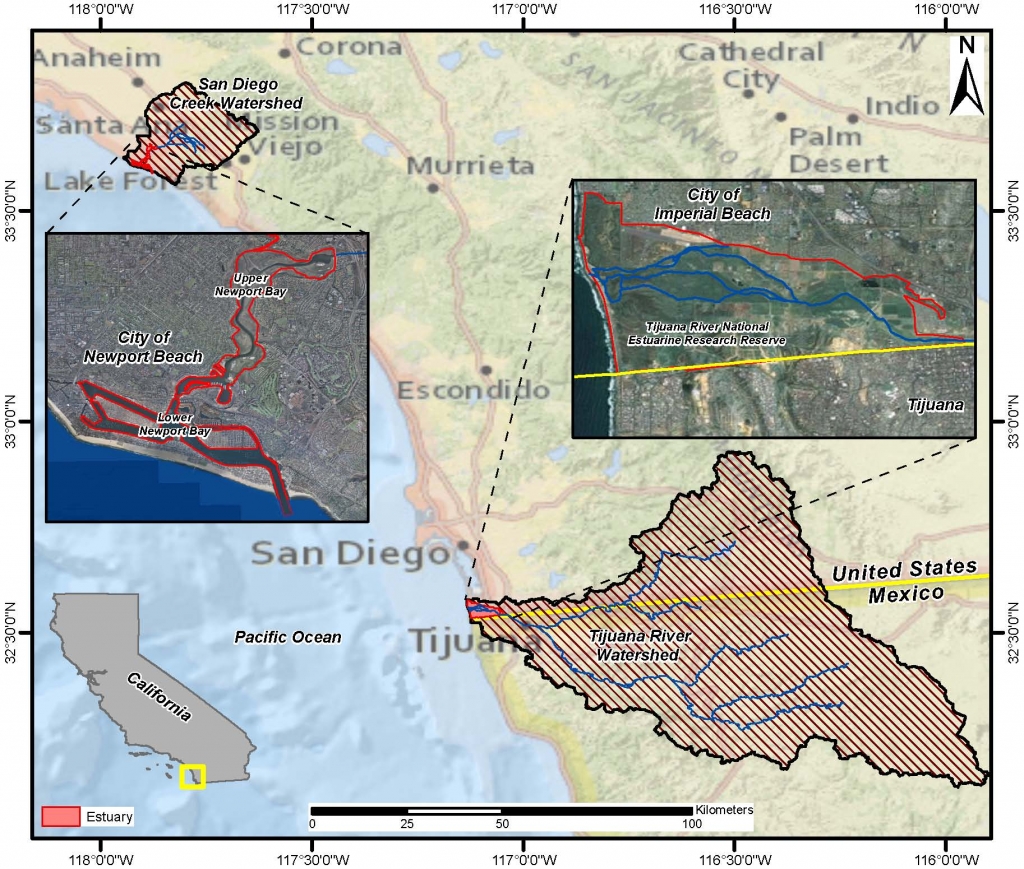 The Tijuana River drains a 1,730 square mile (4,480 km²) basin situated partly in the United States and partly in Mexico. The river originates in Mexico and flows northwest into the U.S. reaching the Pacific Ocean 1.5 miles (2 km) north of the border. The TRE site encompasses beach, dune, mudflat, salt marsh, riparian, coastal sage scrub, and upland habitats surrounded by the cities of Tijuana, Imperial Beach, and San Diego. Critical issues confronted by the Reserve include flood risk, habitat conservation and restoration, endangered species management, wastewater management from Mexico, sediment management, and the integration of recreation.
The transnational boundaries of the watershed also pose unique challenges relative to management. From a flooding perspective, the site supports the Tijuana River Flood Control Project (TRFCP) of the International Boundary & Water Commission of the United States and Mexico, formed by a 1944 treaty of the two countries. The project funded a concrete lined flood control channel in Tijuana which transitions into a flared section on the U.S. side to slow water before it enters the estuary. The project also funded levees that front development on both sides of the border, including residential neighborhoods and a water treatment plant. Flood control is identified as a priority action area in the Tijuana River Valley Recovery Team's Recovery Strategy that outlines the goal to foster natural hydrological connectivity between estuarine and riparian habitats while minimizing flooding of public and private infrastructure.
The Tijuana River watershed is home to one of the fastest growing urbanized areas of the world, the San Diego-Tijuana metropolitan area, which has more than five million people. On the U.S. side, the field site includes the City of Imperial Beach and two districts of San Diego: San Ysidro and Nestor. On the Mexican side, it includes two canyon communities: Los Laureles Canyon and Los Sauces of Tijuana. San Ysidro is home to the busiest border crossing in the U.S., the San Ysidro Port of Entry, which is slated to undergo a $577 million expansion project. The Tijuana metropolitan area (est. pop. 1.5 million) is one of the fastest growing in Mexico, with an average of 80,000 people moving into the city yearly for employment opportunities in the maquiladoras. Los Laureles Canyon and Los Sauces are both rapidly expanding unplanned and degraded communities that lack basic services, infrastructure, are highly erodible and are most vulnerable to flooding. These conditions contribute to cross border flows of sediment, trash, and sewage.